Discover the unique advertising articles, from ideas to implementation, created with passion and attention to detail, highest quality and safety. In our assortment you will find products of two outstanding German brands: KOZIOL - producer of office and kitchen items as well as interior design and SENATOR, a manufacturer of pens, mugs and notepads. The offer is complemented by a unique collection of innovative promotional electronics from the D-VICE PROMOTE catalog. Thanks to cooperation with the best suppliers, we can bring a wide and inspiring offer.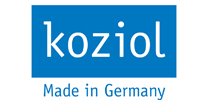 Senator® is a leading provider of customized and personalized desk supplies
Alongside senator® high-quality writing instruments, our range also comprises drinkware (mugs) and notebooks.
True to the tradition established by founder Friedrich Merz and in line with the requirements of our retailers, Senator develop new and novel ideas that the market loves. Today every third ball pen manufactured in Germany is a senator®. Is the European number 1 and number 3 worldwide.
Offer of the KOZIOL brand always surprises with creativity, beautiful forms and a sense of humor. The slogan "Art At Work" emphasizes the company's mission – creating unusual, everyday usage objects that are small piece of art. The office, kitchen, utensils, lifestyle and lunchbox collections contain high quality articles made in Germany from safe materials. Koziol, thanks to new Organic collection, reminds to promotional products market about best and responsible solutions in production with use the high quality and 100% recyclable materials.
Tech is the fastest growing branch of industry. Every year there are new ideas and surprising solutions that make our reality easier and more colorful.
D-Vice Promote catalog introduces to the advertising market a selected offer of innovative electronics from among many brands. Thanks to the options of personalization in many techniques (LED logo for example) the presented products become a perfect tool for building the image and relations with clients.